Aromatic potential, fruit & colour intensity are on the menu for the 2023 vintage!
Not all the appellations were equal in terms of weather conditions!
The start of vegetation was even across the vineyards, with bud-break dates back to normal compared to last year. Foliage development was relatively rapid in all the vineyards. The vintage was already looking very promising.
However, from 25 May onwards, heavy and continuous rainfall occurred until 15 June in the Entre-deux-Mers region. The duration of this rainfall had major consequences in epidemiological terms,  mildew finding ideal conditions for its proliferation.
The Château Bonnet vineyard was severely affected by attacks from this fungus, rarely seen to such an extent in our region. Red grape varieties were hit the hardest (60% loss of Merlot, in particular). White grape varieties did much better overall. The plant health campaign was particularly complicated and required a great deal of human involvement.
In the vineyards of our other appellations, mildew was virtually a non-issue, thanks to better-distributed rainfall.
Château de Barbe Blanche (currently converting to organic farming), the vineyards were managed well, with organic treatments well under control. By the end of August, a very good harvest was in view. However a severe drought (only 5 mm of rainfall between 1 August and 30 September) compromised part of the harvest, resulting in low yields of around 28 hl/ha.
As for the Pessac-Léognan appellation, it arrived at harvest time without any problems, with grapes of excellent quality and very good volume.Although the quantity varies greatly from one appellation to another, the high quality of this 2023 vintage is a reality everywhere.
The aromatic magic of 2023 whites
Unlike in previous years, the summer of 2023 was not a hot one. July and August were marked by relatively cool nights and warm but not excessive days. This situation enabled us to obtain remarkable aromatic potential, particularly in the whites. Our Sauvignon Blancs from Pessac-Léognan offer us this very intense aromatic magic. The lack of hot weather helped to promote freshness, another characteristic of this vintage.
Château Bonnet: All the vats taste very well and are very consistent in terms of quality. The aromas are very seductive, already very intense on the nose. The aromatic potential is present and the blends promise to be particularly interesting.
Château de Cruzeau: A calm year for this estate, with good quality, attractive aromatic profiles and large volumes (or at least back to normal).
Château Couhins-Lurton: The berries were picked with the precision of a goldsmith, allowing us to capture all the aromatic richness of the grapes produced on this exceptional terroir.
Intense fruit and colour for the 2023 reds
For the reds, the cool nights and warm days had the same effect on the aromas, but also had a favourable impact on the synthesis of anthocyanins, which are present in large quantities and easily extracted… This resulted in juices with very deep colours. A relatively limited temperature range provided the vines with good conditions for the synthesis of all the phenolic compounds: in addition to these intense, deep colours, they have a very fine structure and a very fruity, expressive nose.
The very fine weather in September was very kind to the Cabernet Sauvignon grapes, which were able to reach perfect ripeness.
Château Bonnet: The pleasant surprise here comes from the Cabernet Sauvignons, which despite their appearance (very small berries, similar to blueberries) produce very colourful, fairly structured wines with plenty of fruit. They taste very well. They should make fine red Entre-deux-Mers (2023 being the very first vintage of this AOC).
Château de Barbe Blanche:  Small quantities, but high quality potential.
Château de Cruzeau: First harvest of Petit Verdot. This should be included in the Château de Cruzeau blend.
Château de Rochemorin: The Merlots harvested are very homogeneous. The Cabernet Sauvignon has reached perfect ripeness and has a very fine structure. The Cabernet Francs are just delicious.
Château La Louvière: Here, the rainfall at the end of the season was particularly beneficial to the Cabernets. They are very dark, with lots of fruit and no vegetal overtones. The tannic structure is there, without being rustic. Great Cabernets!
Château Couhins-Lurton: The Merlots at Couhins-Lurton have very low Ph levels, with acidity and freshness that are well-balanced with the alcohol content. Modifications to the trellising and more intensive tillage are all positive elements that are now found in the Cabernet Sauvignons.
news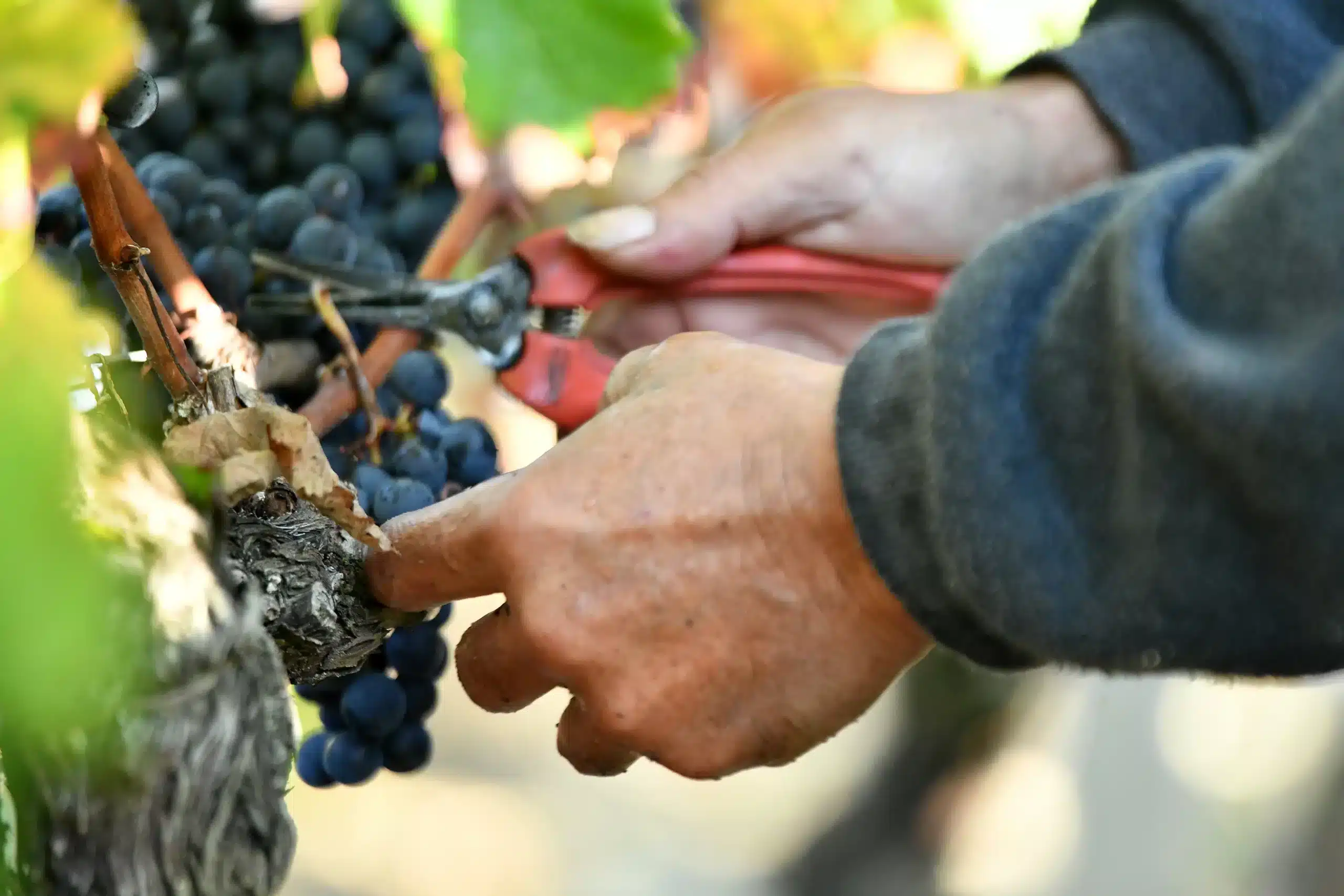 To sum up, 2023 is a vintage of contrasts in terms of quantity, but enchanting in terms of quality... and full of promise!
Our Sauvignon Blancs from Pessac-Léognan offer us this very intense aromatic magic. The lack of hot weather helped to promote freshness, another characteristic of this vintage.